Showing 1 - 1 of 1 results
Float Units
Here's the page for the float units!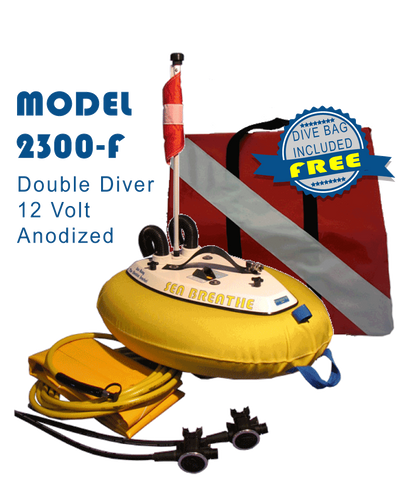 Two Diver Float Unit
The 2300-F Floating Dive Unit is a battery powered electric snorkel that allows 1 or 2 divers to "float" a fresh air-supply along the surface of the water while they enjoy a safe and comfortable underwater experience below. With a light quick-release harness and no heavy tanks to carry, everyone including kids and grandparents can feel comfortable. A Soft Blue Hose bag is included. This two person float unit easily attaches to an external battery for Deck use. Not suggested for boaters if storage is limited. NEW: All Sea Breathe units are covered by a full 1 Year Warranty. NEW: This unit is able to be switched from Two person mode to One person mode in seconds. This reduces power usage by 7 Amps. Also, this One Diver mode can be used if Two divers are in Shallow water. NEW: Our float units have a larger battery case for the use of larger battery...